The tropical garden has one foot in the exotic South Pacific and the other in the Equatorial rainforest. These humid climates produce an incredible array of plants in what we once called the "jungle." The glitzy coast of Florida, languid vacation lifestyle of Hawaii, or the more rustic feel of the Mexican Riviera can inspire themes for this style.
Even if you don't happen to live in a hot, humid climate, you can create the essence of the tropics.
Three Keys to a Tropical Garden
First, do a little research about what grows well in your area. If your climate is hot and dry, you can still create the topical feel, but with easy-care plants that won't triple your water bill. So instead of thirsty Ferns, you might choose Giant Bird of Paradise (Strelitzia Nicolai).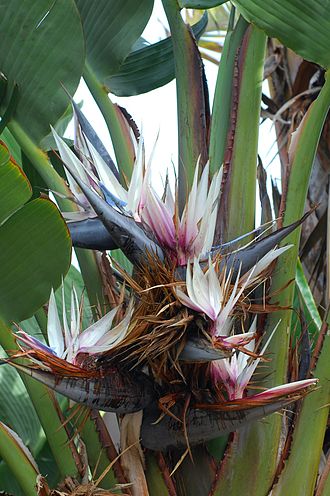 Strelitzia Nicolai
Plants for the tropical garden need not be intolerant of frost. Many tropical-looking plants will stand up to freezing temperatures. Like the Hardy Fiber Banana (Musa basjoo).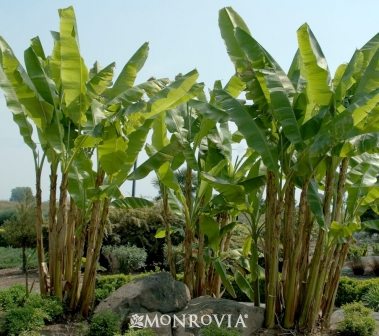 Second rule — the essence of the tropical garden is dense planting. Only with a lot of plants in a small space can you achieve the desired jungle-like appearance. Create a wall around the garden – think vertical layers. Surround yourself in plants.
The final design rule is color. Hot, bright colors just scream tropics. Not only bright flower colors, but striking variegated foliage. And, use color in your hardscape and décor. – source:monrovia.com
Greenhouse Growing
Growing tropical plants is easier if you have a frost-free greenhouse or shed that you can move plants to in winter. If you have the equipment, and think you are up to the challenge, there is little to rival a tropical border in late summer.
Size: 10×6 ft (3×2 m)
Suits: A deep border
Soil: Well-drained but enriched with organic matter
Site: Sunny
1 x Musa ornata
3 x Canna "Durban"
1 x Verbena bonariensis
3 x Dahlia "Grenadier"
As some of the plants in a tropical border are tender, it is important to wait until late spring, when all danger of frost has passed, to plant out. Verbena bonariensis is half-hardy and can stay in the soil all year in some zones, but all of the other plants will need some help to get through winter.
Cannas can sometimes cope with winter frosts if given a thick mulch after they have died down, but it is safer to lift the whole plant and store it in a frost-free place. Likewise, the tubers of Dahlia "Grenadier" will need lifting, but if you choose a hardier dahlia, such as "Bishop of Llandaff," you will save yourself this trouble.
Most musas are not hardy and will need to be taken indoors, but plant Musa basjoo and you can get away with just wrapping the stems in winter. – source