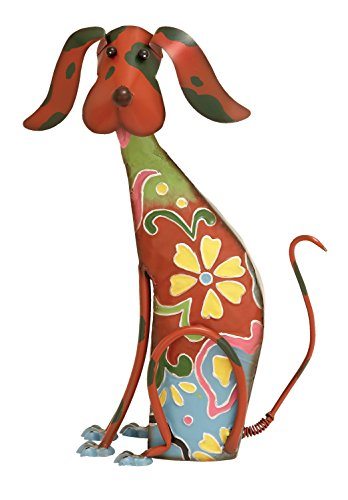 Listed Price: $45.02
Sale Price: $34.98
---
17 inch updated traditional red floral patterned iron whimsical dog garden sculpture, textured metal details. Suitable to use as a decorative item. Unique home decor. This product is manufactured in C…
Read more…
Regal Art & Gift Golden Rooster Decor Med
These roosters are beautifully hand crafted in metal with a hand painted finish. Bright and cheerful, they add an updated country look to your home….
$49.50
$34.78
Stylish Metal Wall Art – Sturdy Metal Construction with Butterfly Dragonfly or Gecko Motive for Garden or House Wall – Painted Colorful Decoration, Easy to Hang Up and Perfect Gift (Dragonfly)
Welcome! You are in the right place where you can find Eye-catching & Quality Metal Wall Art Garden Decor for Home. – Reserve now and choose one of our colorful and wonderful insect, animal creature…
$27.95
$27.95
Spoontiques Dog Crossing Stepping Stone
High quality indoor or outdoor hand sculpted & hand painted decorative resin wall plaque or stepping stones can be hung on your wall or simply add a welcoming touch to your home, yd or office….
$16.99
$16.99