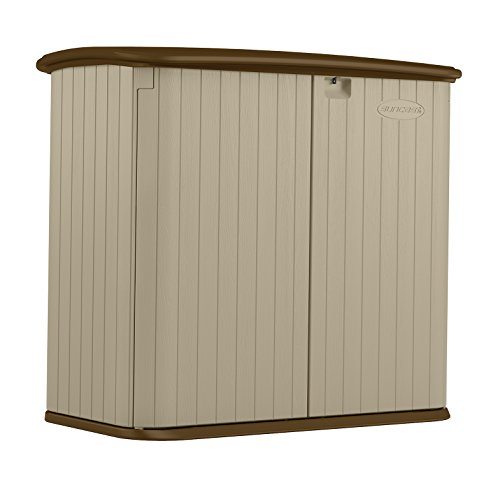 Listed Price: $259.99
Sale Price: $259.00
---
Suncast Sierra Series. 32 cubic feet Blow Molded Resin Vertical Utility Shed. Durable double-wall construction with wood grain texture….
Read more…
Suncast BMS4900D Glidetop Slide Lid Shed
Suncast's GLIDETOP Slide Lid Shed features long lasting, easy to maintain, double wall resin construction. It has a sliding lid for walk in access. It also features a reinforced sturdy floor for tract…
$499.99
$498.00
Suncast BMS2500 Horizontal Storage Shed
34 CUFT, Horizontal Storage Shed, Constructed Of Durable Double Wall Resin, Easy Lift Lid With Prop Rod, Easy Bolt Secure Assembly Requires Minimal Tools, Reinforced Floor For Heavier Items, Assembled…
$259.99
$259.99
Suncast DBW9200 Mocha Resin Wicker Deck Box, 99-Gallon
Durable contemporary design brings style and harmony to any outdoor seating….
$149.99
$109.42
CBConcept UL Listed, 50 Feet, 5500 Lumen, 3000K Warm White, Dimmable, 110-120V AC Flexible Flat LED Strip Rope Light, 930 Units 3528 SMD LEDs, Indoor/Outdoor Use, Accessories Included, [Ready to use]
CBconcept® 120V LED SMD strip light is the latest Energy-efficient decorative lighting product introduced by CBconcept. With bright LED chips mounted on a printed circuit board, enclosed by premium g…
$49.95
$49.95