If you are looking for inspiration in garden designs, you have come to the right place. Having comfortable furniture to relax, entertain, and dine on can make your outdoor home enjoyable and more importantly look gorgeous. Adding a feature to your garden or courtyard might include building a pergola. By definition a pergola is a structure or archway with a framework covered in climbing or trailing plants.
It consists of posts and beams but no walls or roof. Freestanding or attached to your home, a pergola is usually designed to be a shaded walkway or relaxation area. A gazebo, on the other hand, is a free standing structure with a peaked roof, an open framework and a proper roof.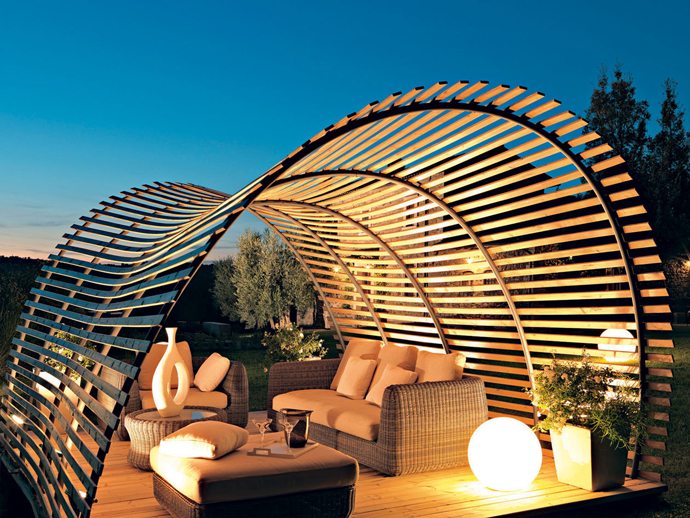 Here are tips for building or choosing a garden pergola, and what to consider before you do.
· Any feature or point of interest in your garden should still blend with the style or your home. Take time to research your pergola design.
· Council approval and/or permits should be obtained before work begins.
· Ensure the building materials are suitable for outdoor use. Metal pergolas are now available.
· A pergola must be built to withstand the elements. For example, bolts and screws should be used instead of nails to ensure the long term strength and safety of the structure.
· Pergola kits are available, however, unless you are an experienced and capable handyman consider using the services of an experienced builder.
· Always ask to see a builders credential and try to view any examples of their work if possible.
Either way, designing your garden should be a fun, relaxing experience. Green labyrinths, cobblestone pathways, small ponds, water fountains, colorful flowers and small round trees flanking your way around the yard- these are all elements that can induce a wonderful state. After all, there is nothing like enjoying a fresh morning surrounded by your own green refuge, or taking some well deserved time off in the afternoon, after a long day's work. – source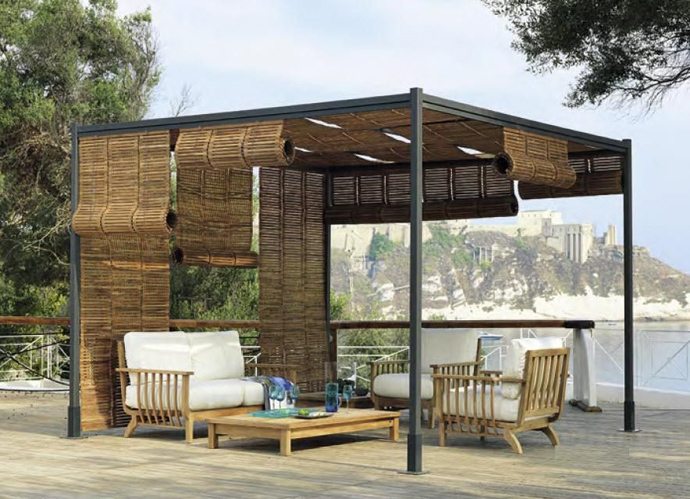 Want To Build Yours?
Here's some tips on how to build your own pergola from the Diy Network.
Before building a pergola, it's smart to plot everything out on paper first. If you're building it on the ground, you'll need to mark and dig holes for the corner posts at least 3 feet deep (even more if you live in a deep frost area). For extra support, you may want to frame and pour concrete footings for the posts to sit on. Make sure the posts are level and placed at correct intervals before filling the holes with quick-setting concrete.
–
Choose Materials and Tools
A hammer drill, some quick drying epoxy and anchoring bolts are the tools you'll need. Several types of materials can be used to build your pergola. Pressure-treated pine will hold up against the elements, but also can be heavy and difficult to use. Cedar and redwood are natural woods that resist decay, are easy to work with and age to a pleasing gray color. Mahogany is a tight-grained hardwood that resists pests and rot. When treated with marine oil, it has the appearance of teak. You can also use composite materials, which hold up well and are virtually maintenance free.
Install Corner Posts and Support Beams
Secure metal braces to the stone or concrete surface for your corner posts. The next task is to cut four 2×8 support beams. Using a jigsaw, decorative features can be cut into the ends. When attached to the corner posts, the beams should be even and level. Use galvanized carriage bolts to secure the support beams to the corner posts. Countersink them on both ends so they will be flush with wood. Use #10 screws to secure the crossbeams to the support beams and the slats to the crossbeams.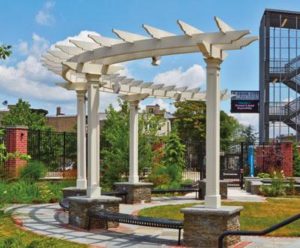 Add Accessories
When finished, you can paint the wood, or stain and seal it with a waterproofing sealant. Since over-spraying can leave a residue on your house, it's better to apply the stain with a roller or brush. To keep your wood deck from turning gray, you'll need to purchase a sealer or stain with an ultraviolet (UV) protecting chemical. Add some plants and patio furniture and your garden pergola becomes a warm and cozy place to relax.